News & Reviews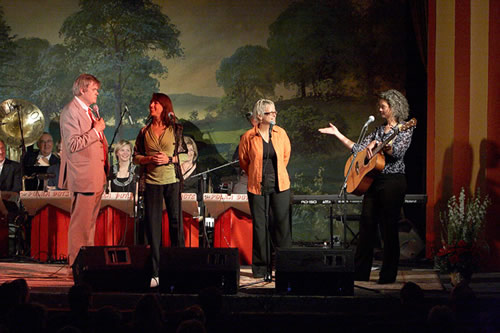 Three Altos perform "The Water is Wide" with Garrison Keillor at the "Red Shoes and Polka Dots" Benefit for the State Theatre in Zumbrota, MN (October 11, 2009).
News
Three Altos at Kehillat Israel, Pacific Palisades, CA, March 20 and October 30, 2015.
Three Altos perform with the Duluth Superior Symphony Orchestra, 7pm, December 6, 2013.
Three Altos Concert, December 1, 2013, at Kehillat Israel, Pacific Palisades, CA.
Three Altos Concert, May 5, 2013, Mitchell Auditorium, Duluth
Amy, Paula, and Sara are performing a reunion concert at Mitchell Auditorium at the College of St. Scholastica.
Three Altos Concert, June 3, 2012. Their West Coast debut...
The altos perform at Kehillat Israel in Pacific Palisades, California, where Amy now lives and works. Their first concert on the west coast AND a reunion for the three who have not performed publicly since Amy's move to CA.
One Voice CD Releasd May 8, 2010, Marshall School's Fregeau Auditorium in Duluth, MN.
Reviews
Three Altos create a work of inspiration | Duluth News Tribune CD Review by John Ziegler | May 6, 2010 | www.duluthnewstribune.com
Sara Thomsen, Amy Bernstein and Paula Pedersen have been making captivating music collectively for several years. This new disc [One Voice] demonstrates how their many talents and their deep friendship come together, creating a work of joy and inspiration.
The title track is the Altos' cover of Ruth Moody's signature tune, which fits this trio perfectly. It builds from one voice to "all of us" and speaks to the empowerment that comes from community. Eric Peltoniemi's "This Very Breath I Breathe" creatively describes the evolution of our planet and in an almost k.d. lang vocal style. Elise Witt's "Una Nuova Armonia" has a buoyant quality from the lovely harmonies and Gene Koshinski's clip-clopping marimba. Steve Earle's "God Is God" is a converted skeptic's belief in, and acceptance of, a higher power. Lance Rhicard's dobro lines give the tune that high, lonesome bluegrass feel. Carrie Newcomer's "Three Women" is a toast to, and a tribute to, the strong women who help anchor lives and families with their care-giving. Violinist Erin Aldridge from the DSSO and Erika Mock add tasteful violin and flute embellishments. Bobby McFerrin's arrangement of the "23rd Psalm" includes a verse sung in Hebrew. Sara Thomsen's "A Woman's Place" tells us that a woman's place is anywhere and everywhere she wants it to be.
This is a vibrant new project that achieves its intended goal of inspiring us all to peacefully work to achieve our goals and to connect with each other.
Praise
"Crisp and clear yet ethereal harmony…"
—Lavender Magazine

"Three Altos share more than just a vocal range. They're strong. Opinionated. Funny. Determined."
—Duluth News Tribune