The Altos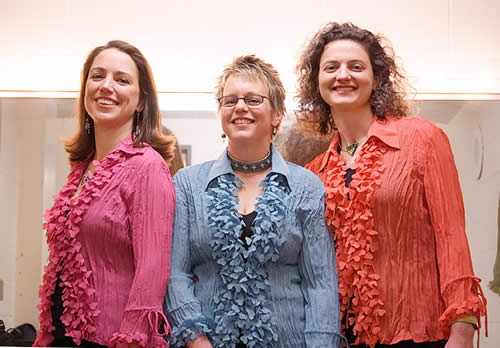 The Three Altos: Amy, Paula, and Sara
A rabbi, a folksinger, and a university professor make up the unlikely trio of "Three Altos." Rabbi Amy Bernstein, singer-songwriter Sara Thomsen, and Dr. Paula Pedersen have developed their vocal blend from years of harmonizing a friendship over food, conversation, laughter, and song.
Amy
Rabbi Amy Bernstein serves as senior rabbi at Kehillat Israel in Pacific Palisades, CA. In addition to her pulpit work at KI, Rabbi Bernstein has a broad portfolio including teaching, working with the early childhood center, adult education, youth and Jewish Experience Center programs, sisterhood, Israel programming, all tikkun olam related committees and activities, seniors programming and more. Originally from Atlanta, Georgia, prior to coming to Los Angeles Rabbi Bernstein served as the rabbi of Temple Israel in Duluth, Minnesota for 13 years. She served two terms as the President of the Arrowhead Interfaith Council and six years on the Board of Trustees of the College of St. Scholastica where she was also on the founding board of the Oreck/Alpern Interreligious Forum. Rabbi Bernstein lives in the Palisades with her partner, Judy, her daughter, Eliana, and their rescue Chihuahua, Olivia.
Sara
Singer-songwriter Sara Thomsen performs as a solo artist, as well as artistic director of Three Altos and director of the Echoes of Peace Choir. Sara is an award-winning songwriter and has been the recipient of various community honors including the YWCA Women of Distinction Leadership Award, Men as Peacemaker's Community Peacemaker Award, St. Louis County Arts Excellence Award, and City of Duluth's Distinguished Artists Award for her various efforts to build community through music. Thomsen is the producer of five solo albums, two Three Altos albums, and a duet album with her partner and other alto, Paula. www.sarathomsen.com
Paula
Dr. Paula Pedersen is Faculty Fellow for Intercultural Initiatives at the University of Minnesota-Duluth. She also works as an interculturalist and consultant to educational and leadership groups seeking self awareness and strategies toward intercultural effectiveness. As an educator, singer and global citizen, Paula strives to facilitate understanding of the complexity of multiple perspectives. Paula fantasized about becoming the next Barbra Streisand as an adolescent, using her hairbrush as a microphone, and has been singing in groups her whole life, from high school swing choir, to the esteemed Luther College Nordic Choir, to the lead singer for a local rock band.
Three Altos
While their voices are as different as their personalities, it seems there is something magical that happens when the three women begin to harmonize. The trio's friendship has grown deeper with each chord.
The Three Altos believe that the clearest reflection of the Sacred is the rich and textured diversity that makes each human being and every speck of space dust unique. The energy at the center of it all pulses through the many traditions and styles on their recordings and is the force driving the celebration and affirmation of life found in so many of their lyrics and melodies.