Camaradas
Camaradas is the Three Altos debut album, recorded in Duluth, MN at Sacred Heart Music Studio. Amy, Paula, and Sara are joined by a superb cast of local musicians adding color and depth to the album: Karen Bauman on piano, Rachael Kilgour on violin, Kathy McTavish on cello, Richie Townsend and Zachary Kahmann on drums.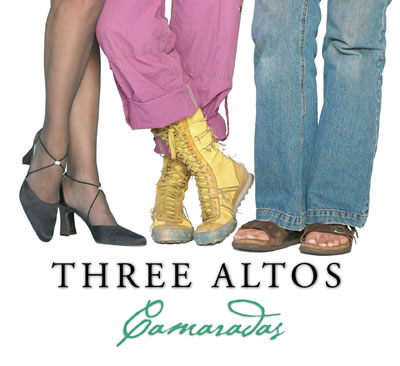 Nigun (by Shefa Gold)
O Mama Bakudala (Trad. South African)
Camarada (by Linda Hirschhorn)
B'Yado (by Craig Taubman)
Awake (by Peter Mayer)
The Water is Wide (Trad. Scottish origin)
Haré At (by Linda Hirschhorn)
Ise Oluwa (Trad. West African)
Eli, Eli (by H. Senesh/D. Zehavi)
Would You Harbor Me (by Y. M. Barnwell)
Leave a Little Light (by Nancy Reinhold)
Holy Angels (by Sara Thomsen)
Order CD:
Available online through CD Baby.